I assume not much people know about Malaysia, so I decided to use my blog to promote Malaysia as a holiday get away.
If you like hot weather, beaches, asian culture, loves food and advantures then Malaysia is a place to be!(a part from other interesting places)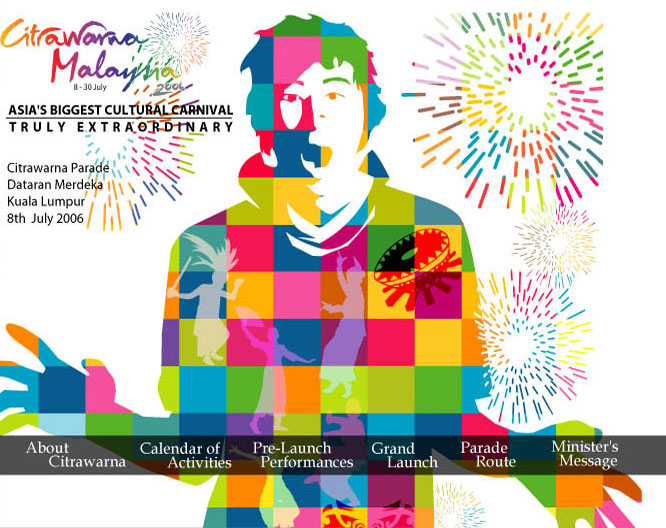 Citrawarna Malaysia (The Colours of Malaysia)
The Colour of Malaysia 2006 is a magnificent event showcasing the fascinating facets of culture and arts of our multiracial community in a funfilled carnival atmosphere. Over the years, Citrawarna is acknowledged to have played a pivotal role in the growth of the nations tourism industry, but today it has also garnered a revered place in the contemporary culture of Malaysia.
Fast Fact About Malaysia

Country
The Federation of Malaysia comprises Peninsular Malaysia and the states of Sabah and Sarawak on the island of Borneo.
Geographical Location
Located between 2º and 7º north of the Equator, Peninsular Malaysia is separated from the states of Sabah and Sarawak by the South China Sea. To the north of Peninsular Malaysia is Thailand while its southern neighbour is Singapore. Sabah and Sarawak are bounded by Indonesia while Sarawak also shares a border with Brunei.
Area
329,758 sq km
Population
25 million
Capital
Kuala Lumpur
People
Malays who make up about 57% of the population are the predominant group with Chinese, Indians and other ethnic groups making up the rest.
Language
Bahasa Melayu (Malay) is the national language but English is widely spoken. The ethnic groups also speak various languages and dialects.
Religion
Islam in the official religion but all other religions are freely practised.
Government
Parliamentary democracy with a bicameral legislative system. The Head of State is the Yang Di-Pertuan Agong and the Head of Government is the Prime Minister.
Climate
Tropical climate with warm weather all year round. Temperatures range from 21ºC (70ºF) to 32ºC (90ºF). Annual rainfall varies from 2,000mm to 2,500mm.
Major Holidays
New Year's Day
Hari Raya Aidiladha*
Federal Territory Day **
Chinese New Year*
Awal Muharam*
Birthday of Prophet Muhammad*
Labour Day*
Wesak Day*
King's Birthday*
National Day*
Deepavali#
Hari Raya Aidilfitri*
Christmas*
Note: (*) – National holidays
(**) – Putrajaya, Kuala Lumpur & Labuan only
(#) – Except Labuan & Sarawak
Economic Profile
Manufacturing constitutes the largest single component of Malaysia's economy. Tourism and primary commodities such as petroleum, palm oil, natural rubber and timber are other major contributors to the economy.
Belows are few links that i find very interesting to browse through to get to know Malaysia.
Tourism Malaysia

Malaysian Timeline