This research is under copyright of RMIT University & Universiti Sains Malaysia (USM).
To protect the author's copyright the ideas, contents, photos, and some videos are under copyright of creative commons. Any reproduction of the work, image & text please contact nurulrahman[at]gmail.com
Â
Submission: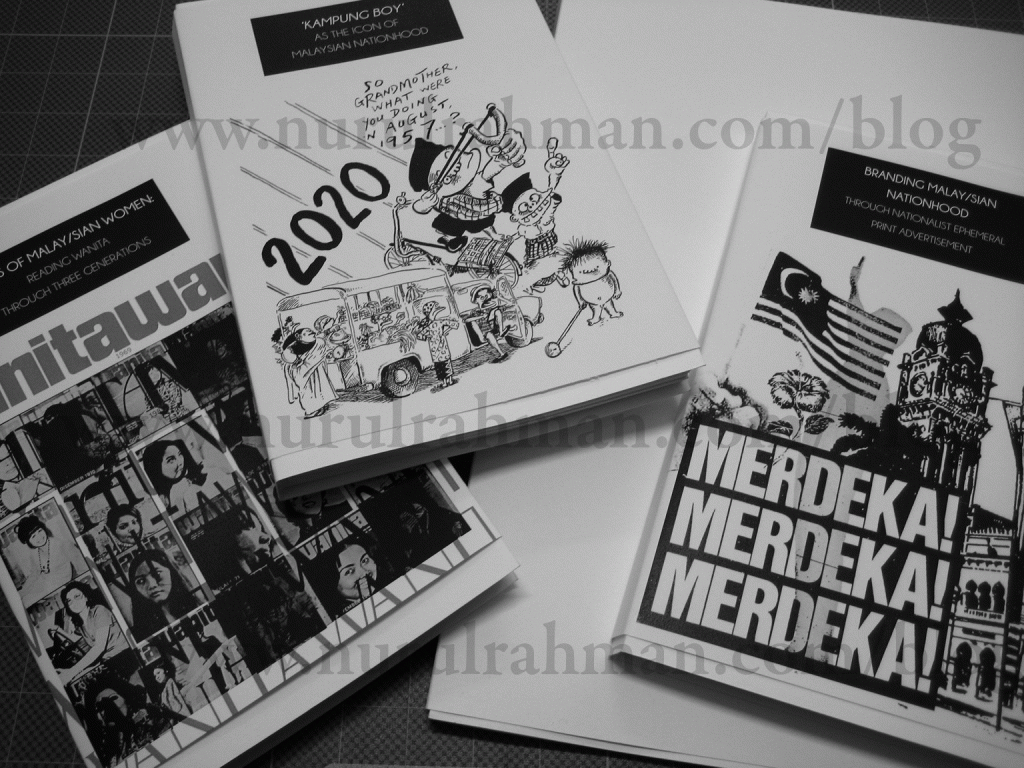 (PhD dissertation contained: 3 novel size case studies with images, and dissertation – 86,000 words count)
I submitted my dissertation in Nov 2010, and currently working on its revision. Here are some of the images from the projects that I have conducted during my study. I have used mixed of different research methods including design exploration method, observation, mid-mapping methods and online discussion. For the visual documentation and data organisation that I have used post-notes, infinity diagramming (Kawakita 1960) and card sorting.

Below are the research project and analysis conducted during my research candidature.

Research Directions:
2010
Stereotypical icons and graphic representations play a significant roles in shaping the construction of a country's identity, and influenced in positioning the nations' notion of their motherland national identity.
This study explores the relationship on how popular print mediums construct the notion of Malaysian national identity through stereotypical icon images.
It examines, through five decades, spanning from 1957 to 2007, Malaysia as an independent nation. The case studies are made up of women magazine, cartoon compilations from various publications and national advertisement.
This research also attempts to follow on primary research questions. First, how Malaysian national identity is constructed in stereotypical icons and, second, how popular print mediums as populist, mass-culture oriented, unlike more elitist and officially sanctioned modes of cultural memory (i.e. national museums and achieves), as an ephemeral repository of cultural representation and images, have a significant role in construction of Malaysian national identity that often has been overlooked.
2009
Aim
The main aim of this PhD is to provide demonstration, through theorizing and documentation of design projects and exploration, on how the stereotypical concept of Malaysian national identity has been manufactured, packaged and contested through icons in Malaysian popular print media.
Contributions
This study intends to contribute discourse about graphic design and its connection to construction of national identity in educational institution level and practice, and to provide documentations to demonstrate its roles as icons manufacturer and identity constructor through popular print media, thus highlighting its significant contribution in shaping the construction of Malaysian national identity.
2008
This PhD research project is looking at how visual metaphors/stereotype images and cultural symbols are used in newspaper, magazine advertisements and comic, to find out its influences in conveying and creating belief in shaping the nation's identity so that it can/in order to demonstrate the significant role of communication design in constructing the evolution of Malaysia National Identity from 1957 – 2007, 5o years of Independence.