It has been a long while since I logged in and put my thoughts here. I took a long break from putting some entries on this blog to focus on finishing my PhD's corrections and then took a break from study and related. I used my time to read books (not directly related to my PhD) that I bought and been eager to read since I started my PhD. I have read several so far and lots more waiting to be read on the shelves. I also allocated that time to visits some places around Australia, around Victoria, Sydney, Adelaide and Cairns, a short break holiday, and the first one that I am able to fully enjoy with an empty head without my PhD since I submitted the correction. Apart from that, I enjoy my time cooking different types of cuisine and of course, enjoy eating it with my sweetheart. That was such a relief! I was not able to imaging the sense of liberty that I am feeling now before I submitted the work. Now, I am truly free from it.
Rain Forest at Daintree National Park, Photo by Nurul Rahman 2012.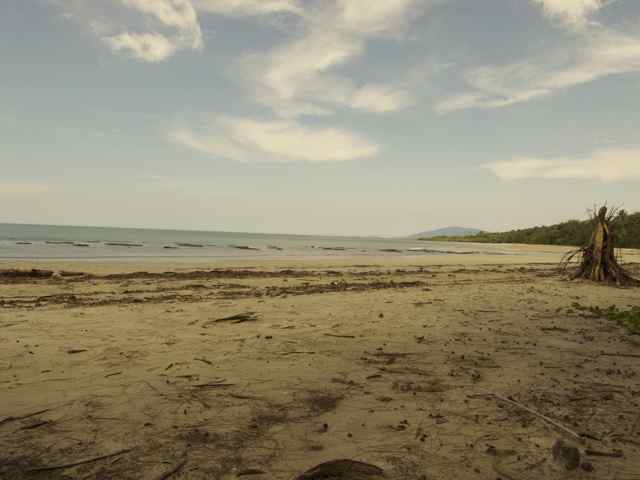 Cape Tribulation Beach, photo by Nurul Rahman 2012.
Since then, I realised that I have not logged into my blog for couple of months. And for the first time since I have started this blog in 2006, I missed the very first one month entry, last month in February. But let's take it as my holiday month and a gift for my final correction submission of my PhD.
I feel like I am opening a new book, and have closed the last one that I started in 2006. Thus, I am thinking that this time in my blog writing or ranting, I will write something a bit different, still about design teaching and practices, cultural history, etc., but I hope to be able to be more reflective and critical on what I post here. Oh, yes, there might be new ideas, thoughts and perhaps comments on people's work, but I hope that this idea will be a shared knowledge and if anyone interested to apply or adopt the ideas that I published in this blog, you will at least ask for my permission and then put the credit to it. Let's be an ethical human being, and designer shall we.
I am very keen and interested in agriculture nowadays, perhaps because both me and my partner enjoy eating tasty food made with love and fresh, healthy ingredients. Slowly I am growing some herbs in my balcony, when more often to the farmers market than a supermarket and from time to time, enjoy eating at a delicious fresh food restaurant. Yes, there's plenty of them in Melbourne. I can name a few restaurant that is worth to visit in Melbourne if you're in town. Try Mezzo Bar and Grill (served Italian fine dining cuisine) , Yuu (Japanese fine dining -definitely you need to make a booking for this one), Cili Padi (a Malaysian style cuisine that worth to try, mixed of Chinese, Indian (Cili Padi India Express) and Malay dishes), and The European (served delicacy of European style dishes small and big plates to share). We were a bit disappointed when we were in Port Douglas in the beginning of our trip there, but we managed to find some of the lovely delicious place to eat. And for the price, I can tell you that it's worth to try. Here are some links for the restaurant that served excellent food around Port Douglas. The best we have eaten so far is Ospreys Restaurant at Thala Beach Lodge, which is situated in a fantastic, cozy dining place. The chef, Katherine (not sure if I spell her name right) and Dave who have been serving the restaurant for more that seven years have very delicate taste and touch. If you think the price is a bit costly, then just try the main and the dessert. My choice after trying most of the dessert goes to the Brownies. The other restaurant and places to eat are situated in the Port Douglas city itself, to name a few and a must to try while you there is Salsa Bar and Grill (served fantastic contemporary cuisine and have a warm ambiance) for lunch or dinner, and third one is 3nineteen for fresh produced ingredient for your breakfast or lunch. 3nineteen have a fantastic location just facing the sea.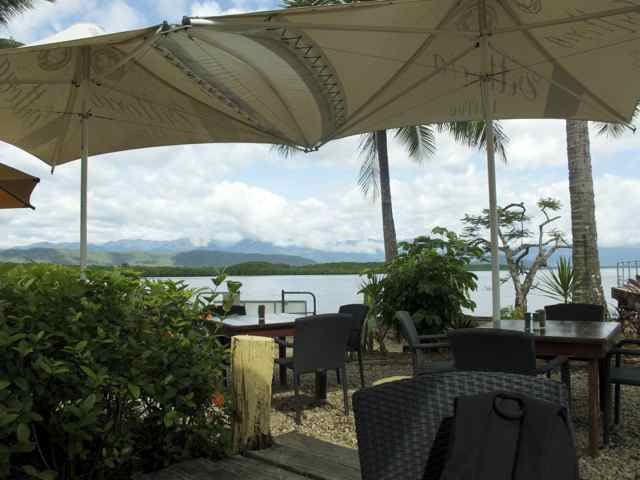 3Nineteen front beach cafe, Photo by Nurul Rahman 2012.
Anyway, yes, agriculture, and sustainability in agriculture that interest me. My last trip in Malaysia, a couple of months ago, again had opened up my eyes. Living here for almost 8 years in Melbourne, I think like many Melbournian, we take things for granted. Yes, we are grateful that we are able to get good farmers markets and organic products here but, it is not until we travels around to other places that we soon will realised that we are such a lucky community.But this is for people who love to cook and prepare their own cuisine. The local ingredient are fresh and cheap compare to it you eating out everyday. With this experience in my mind, I went back to my birth place with open mind and hope that I will be able to find similar experience in Penang.
On my last trip in Malaysia, I spent my time in Penang, an island also known as the Pearl of Orient by the Franacis Light, a British officer who governed the island before the independent of Malaysia. Apart from enjoying the delicious cuisine that I could get for very cheap price in Penang, such as all day snack of nasi lemak (coconut rice wrapped in banana leave, served with fried anchovies and peanuts, cooked chili paste, half boiled eggs and slices of cucumbers) and nasi kandar, an indian Muslim influence from Northern India style of cuisine (plain or briyani rice served with your own selection of dishes that you can choose from the shelves, such as different types of curry, vegetable and fried fish and chicken). Now the list does not stop there, Penangite are blessed with other dishes such as Laksa Penang, Satay, Mee Kari, Pasembor, Mee Goreng Mamak, Cucur Udang and so on. Penang is a wonderful place if you like to eat, and love eating out. Cheap and tasty food. It is know as the Malaysian Food Heaven because it is full with hawker style, shops and restaurant that served good food. To the extend, I actually made my long list of different style of cuisines that I wanted to eat while I was there.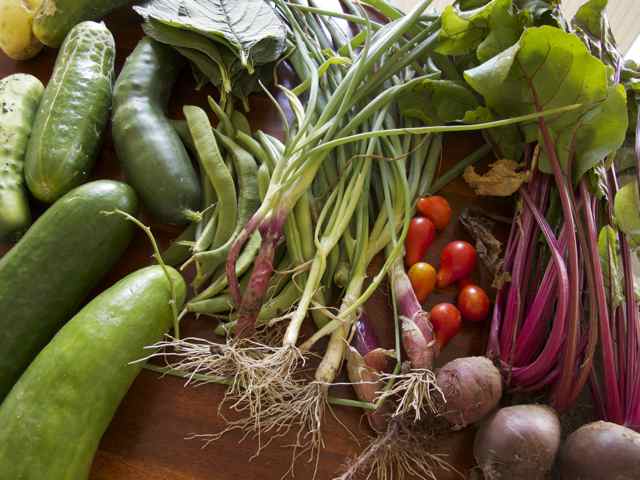 Grow Your Own Veggies, Photo by Nurul Rahman 2012.
But after a while, I got sick of eating out and wanted to cook again. My search moved from food stalls to markets to look for local ingredients that I can use in my cooking. There are plenty and enough to start with but the freshness and the taste of the fresh products sold in the market or event in supermarket is far compare to Melbourne. Far in this sense is that yes, there are some ingredients that you can get there but the are now as good or tasty as the one I have eaten here in Melbourne. For example, the tomato tasted plain, the sweetness and the delicious sour taste of tomato is not there, and I believe it is an industrial way of producing this tomato. That is sad because if you want to cook, from fresh ingredients the ingredients needs to be at their very best state, otherwise it will change the taste of the dish that you cook. And the same goes with other vegetables, fruits, meat, seafood etc. But after a while of searching I found several places that tried to sell the good fresh, organic ingredients, thank God! But seriously, I think we can do better Malaysia, we need good food, healthy food. I remember a friend of my Nora was telling me how she hated tomato and other vegetables when she was in Malaysia. Nora is currently living in Melbourne and she have discovered the delicious taste of tomato, fruits and vegetables. She didn't realised that the fresh ingredients can be so tasty and delicious.
Local Produced Fresh Products in Castlemain, Photo by Nurul Rahman, 2012.
My answer to that is, not many places sells fresh and organic produced vegetable in Malaysia, therefore we (Malaysian) are only expose to the not so good products, but because we didn't have the option, we just take it as it is. I think this is another design challenge for fellow Malaysian. How can we designers facilitates the process of sustaining the good, freshly product and organic product in Malaysia? It's a start but this can lead somewhere.
Interesting link to look at:
Or a video about local harvest where you can follow the journey of a tomato through the industrial food system to the supermarket shelves. Find out why local food alternatives are a good thing, and how easy it can be to find good food close to you. A fantastic video from Chris Grose http://vimeo.com/39169810
Similar scenarios happen in Malaysia with seafood and other fresh farmers produced. And don't forget to look at example how the designer's skill can be apply or facilitate this process.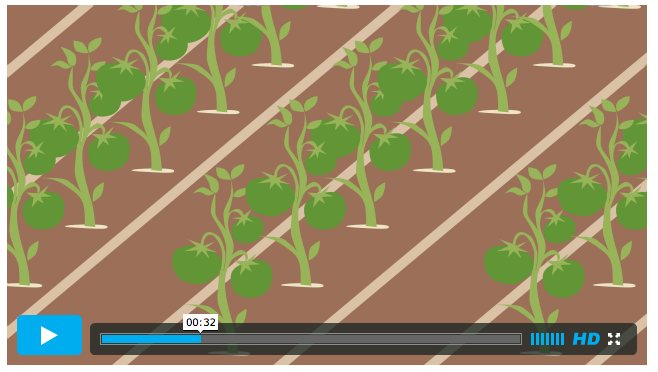 Image credit from video product by Local Harvest